Is the engagement off?? THE MISSING JEWEL Scavenger Hunt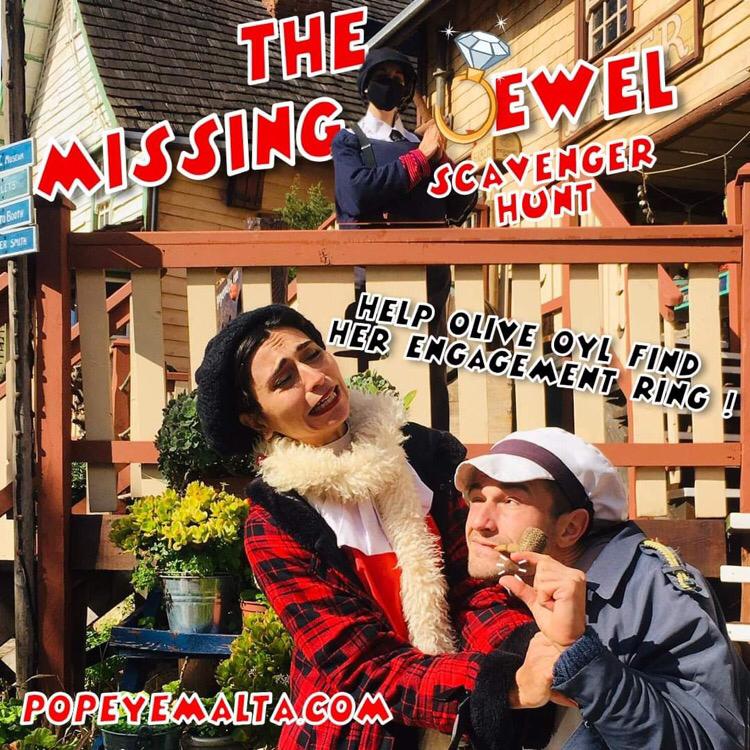 24 Feb
Is the engagement off?? THE MISSING JEWEL Scavenger Hunt
---
"Is the engagement off??"
After so many years of Olive Oyl longing for an engagement ring from Popeye, just a few days after finally getting one – Someone has snatched it away from her!!! But who would do such an Atrocious Act?!?!
Come and HELP Olive Oyl and Popeye in search of the Missing Jewel before they have to call off their engagement.
Join in on our newest 2021 activity at @Popeye Village Malta - "THE MISSING JEWEL" - Scavenger Hunt. An outdoor group activity like no other!!
Search high and low along the streets and alleyways of Popeye Village. Make sure to leave no stone unturned until you manage to decipher the codes that lead to the missing engagement ring. But do bear in mind that the thief did not make it easy… and finding the missing jewel requires a lot of precision and skill.
Do you have what it takes to be detectives for one day and try to solve all the clues in finding Olive's engagement ring?
Whether a casual family weekend afternoon event on your next office team building activity make sure to join in the fun within your own bubble and solve this cruel mystery.
The number of daily groups is limited and groups cannot be of more than 8 people each.
The price per person is of €11 which includes:
Entrance to Popeye Film Set THE MISSING JEWEL" - Scavenger Hunt Activity A variety of Animation shows Free Popcorn Free Postcard
All Covid Protocols are adhered to all along the film set.
#TheHuntisOn!!!
#LetsSaveThisMarriage!!
For more information visit https://www.facebook.com/popeyescavengerhunt